A suitable payroll solution is a core to business operations. Nevertheless, its complexity can overwhelm executives, managers and human resources (HR) professionals—the larger the company, the more convoluted it may become. However, by adopting state-of-the-art and scalable solutions, any business can streamline its payroll processes, saving time and increasing efficiency.
Businesses may find it difficult, during unprecedented times, to keep organisational processes intact, especially if employees are required to work remotely for longer periods of time. Companies must possess digital solutions that streamline procedures and remain operational and competitive even in the most unexpected scenarios.
Employees have to trust their employers with prompt payments, which makes payroll management a sensitive part of business operations for the following six reasons:
Employees are financially dependent on their employers.

Employees would have pre-planned financial commitments.

Employment law binds employers to make timely and correct payments.

Haphazard payroll solution taints corporate culture, which is essential to

job satisfaction and commitment

.

Mistake-ridden payroll may lead to increased turnover rates.

Payroll management includes liaison with the Commissioner for Revenue (CFR) at the Inland Revenue Department (IRD).
While legal compliance is crucial, maintaining good relations with staff is just as important. Employees perform at their optimum due to their expectation that the correct salary is paid on time. And if they have access to top-notch tools that aid their daily work.
Cloud-based Payroll Software Pays off
Handling payroll should not be a problem, and reaching high accuracy levels is possible. However, operations running on paper-based or scattered digital solutions are bound to be inefficient. Payroll digitalisation has to offer flexibility so companies can customise the software to their corporate structure, processes and specific team requirements.
The need for flexibility when going digital with payroll processes interested businesses as early as the 1980s. "A good payroll system must be flexible enough to deal with non-standard payments and deductions as well as statutory calculations," technical journalist Elaine Shepherd writes in her article ("Choosing a payroll package",) published in 1983. "It's the details which can decide how useful a payroll package [digital solution] can be for your organisation. Is it flexible enough to handle all your requirements?". Almost three decades after, the point she is making still stands: payroll software must be able to adjust to a company's needs. As the digital world virtually embraces us, team members and HR departments expect tools that facilitate access to information and self-service interfaces. This can increase productivity and reduce frustrations.
Payroll Software Essentials
Businesses have to think about a payroll solution as a service that morphs with the organisation, and as a result, it is a live project. One-off purchase for a system that will work forever is often not adaptable or scalable. However, if your choice includes the following five essential features, you can ensure that your staff will work with increased efficiency and save time—the scarcest resource.
1. Cloud Computing
An application that uses cloud computing for its services has benefits beyond bridging operational issues. By using cloud-based solutions, companies can save on hardware costs, such as buying and maintaining servers to store data. As a company grows, locally stored operations may face scalability issues. However, cloud-based services are ready to align with the expansion of businesses while offering enhanced security measures.
Still, the most beneficial aspect of cloud computing is its flexibility: it is everywhere, anytime. Paired with an intuitive user interface, cloud-based payroll software becomes a digital solution of outstanding merit. Employees are able to securely access the platform using any device from anywhere over the internet, ensuring operations continue smoothly whatever the circumstances: hiring freelancers from the gig economy, employing digital nomads or implementing remote working measures.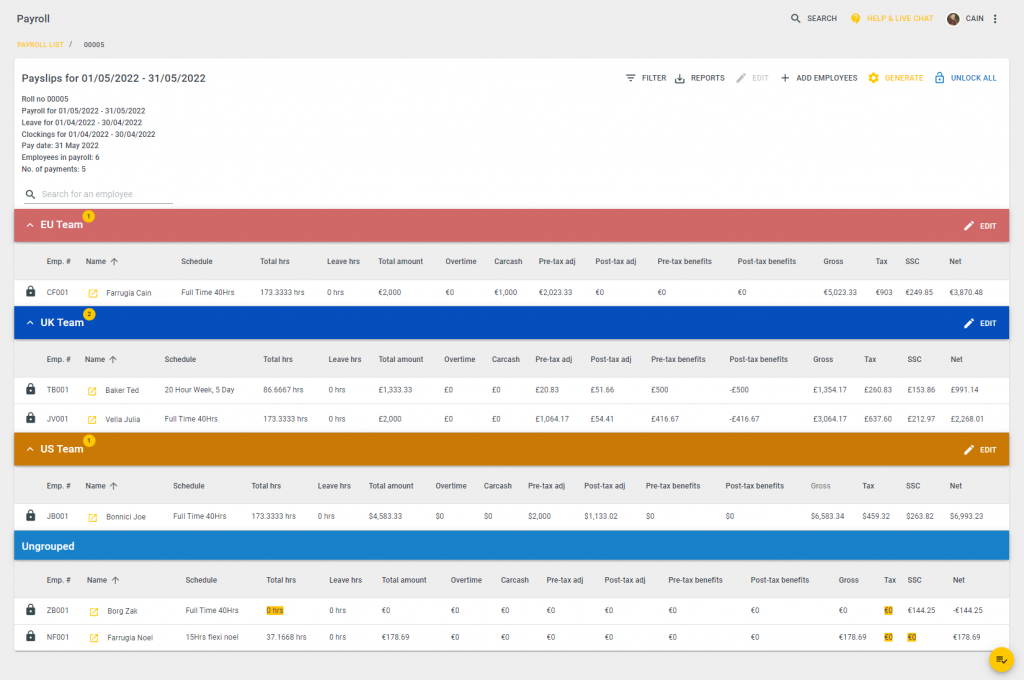 2. Complete Automation Thanks to Payroll Software
Automating processes that do not require human intervention—beyond setting up and monitoring—is crucial as it can save time. By streamlining repetitive procedures, staff can afford sharper focus on other tasks at lower stress levels.
For example, onboarding employees on the payroll or integrating leave into the payroll system are both laborious tasks and prone to error. However, through automation, the software can send notifications and automated checklists related to onboarding, while approved leave automatically integrates into the monthly (or periodic) payroll, decreasing the margin of error.
Automation to generate and distribute payslips (by email) streamlines administration and allows for well-organised archiving. This extends to bank transactions, too: periodic salary payments can go through in bulk without the need for a clerk to execute each transaction one by one. To this extent, digitalising processes make internal and external auditing fast and straightforward.
3. Calculations and Reporting
Automation helps staff handle calculations and prepare payroll reporting, which aspects are important not only for the payroll team but also for the management. Bulk editing features significantly reduce the time spent executing calculations, while automated protocols help increase accuracy.
Automated periodical payroll reports that the software generates assist in streamlining costs and expenditures and allows for granular analyses to help make corporate decisions. The most important aspects an automated payroll report—whether weekly, monthly, quarterly or annual—must include are:

employee number

employee name

payment type

basic pay

leave pay

overtime pay

pre-tax adjustment

cash benefits (taxable)

gross value

tax (current and arrears)

SSC (employee and company)

maternity leave fund

post-tax adjustment

cash benefits (non-taxable)

advance payment

net value

car use

cost centre allocation



4. Payroll Solution Integration
As payroll is not the only part of human resources management (HRM) that benefits from digitalisation, a solution that integrates into other HRM systems must communicate with other pieces of software to support a streamlined workflow.
For example, seamless employee database integration with payroll means that after adding new employees, their details automatically transfer to the payroll module. Employees, therefore, have access to all their information and can download FSS document copies and payslips.
5. Continuous Development and Support
Ideally, a business's payroll system works intuitively, running on an easy-to-learn user interface. When a feature or process does not offer a high level of intuitiveness, it must be improved, so that any necessary learning is minimised. Nevertheless, should employees encounter problems, they need immediate attention via unparalleled customer support, such as a quick chat or swift email communication.
Regular upgrades and feature additions signal that developers are prepared for changing market expectations and industry standards while keeping abreast of security protocols to stand firm in the storm of malicious cyber attacks.
Digitalisation Makes HR Smart
Both our private and business lives are reaching speeds and complexities not previously seen. Employee demographics are becoming more diverse. Talexio offers demographic insights allowing for a breakdown analysis in gender, age group, locality, job title, marital status and nationality; and visualises data on charts, allowing for additional filtering to gain a more granular understanding of the figures.

FAQ on Talexio Payroll Software
What is payroll software?

Talexio payroll solution is an HR toolset that meets all requirements from recruitment to onboarding, payroll to employee management, and leave management to meetings. Thus, day-to-day HR operations become simplified and efficient. It is resulting efficient payroll management that provides real value to organisations.

What is the best online payroll service in Malta?

Talexio HR system is one of the best options available on the market. We have developed Talexio to help you automate your payroll processes so you can spend more time focusing on your most important resource – your people.

What are Talexio's strong points as a payroll software?

Talexios Payroll and HR Suite provides the online tools you need to maximise organisational health while making all your day-to-day processes smarter and faster.