Punch Clock Device
UA760 Model
Overview
This UA760 model is a multi-function biometric time & attendance device. It has been carefully selected for its sturdiness, accuracy and user-friendliness, which seamlessly integrates with our Talexio T&A module.
This punch clock device can be set to have multiple verification modes to improve security. Its BioID fingerprint collector has a high identification rate and also includes internal WiFi for convenient communication.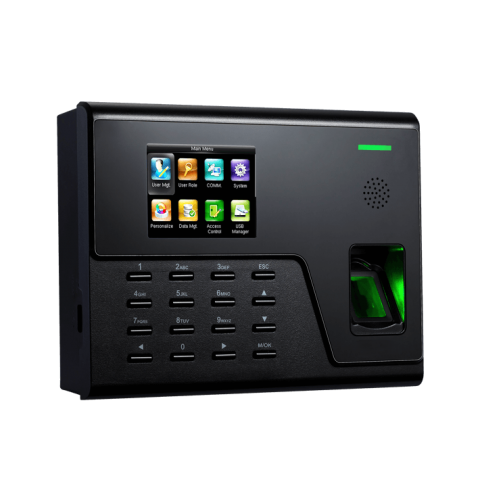 Specifications
Capacity

Fingerprints: 1,000   |  Cards: 3,000 

Records

50,000 transactions

Identification modes

Fingerprint and/or RFID Card

Screen

2.8 Inches Colour Screen

Standard Features

9 Digit User ID | T9 Input | SMS | DST | Self-Service Query | Automatic Status Switch | Ring Bell

Communication

TCP/IP / WiFi / USB Host 

WiFi Module

2.4G radio Band (IEEE 802.11 b/g/n standards)


Integrated Controller

Third-party Electric Lock and Exit Button

(TalexioHR only supports the T&A functionality)

Power Supply

DC 12 V / 1.5 A  

Temperature Operation

0° C  ~  +45° C

Dimensions
186 mm (H) x 138 mm (W) x 43.6 mm (D)
Process & Requirements
To best assist you, we hold a minimum set of devices in stock to service orders on a first-come, first-serve basis. Once you select the punch clock most suitable for your needs, we will confirm stock availability. Should a selected device not be immediately available, we typically require two weeks from order to refresh inventory. 
To complete your order we will require your Billing Details and confirmation that the Device Requirements are met.
All invoices must be settled in full before scheduling device(s) installation.
Additional Terms and Conditions may apply.
You can find detailed information about all the steps and requirements here.
You might also be interested in: