Training your employees is vital for company development, professional and even personal growth. It improves employee performance, morale, job satisfaction, encourages innovation and reduces turnover.
Besides, using a cloud-based training management system will help you manage and organise your company resources efficiently.
There are many other advantages to using training management software. Here are our top three:
1. Forget about files stored in countless locations and start storing your data securely
With a training management system, you can conveniently make all your training information easily trackable and searchable. If you were to store files on separate computers, Office 365 or Google Docs, you wouldn't be able to use your files effectively.
Important company information, such as training documents, should always be easily accessible. With a training management system, you can store all your data in one centralised location. What's more, this will help eliminate duplicate work.
With Talexio's clean and easy-to-use interface, you can comfortably store all your training documents and even attach them to specific courses, as necessary, without ever having to worry about finding essential records. Even external instructors can access scheduled classes, take attendance, and submit participation sheets.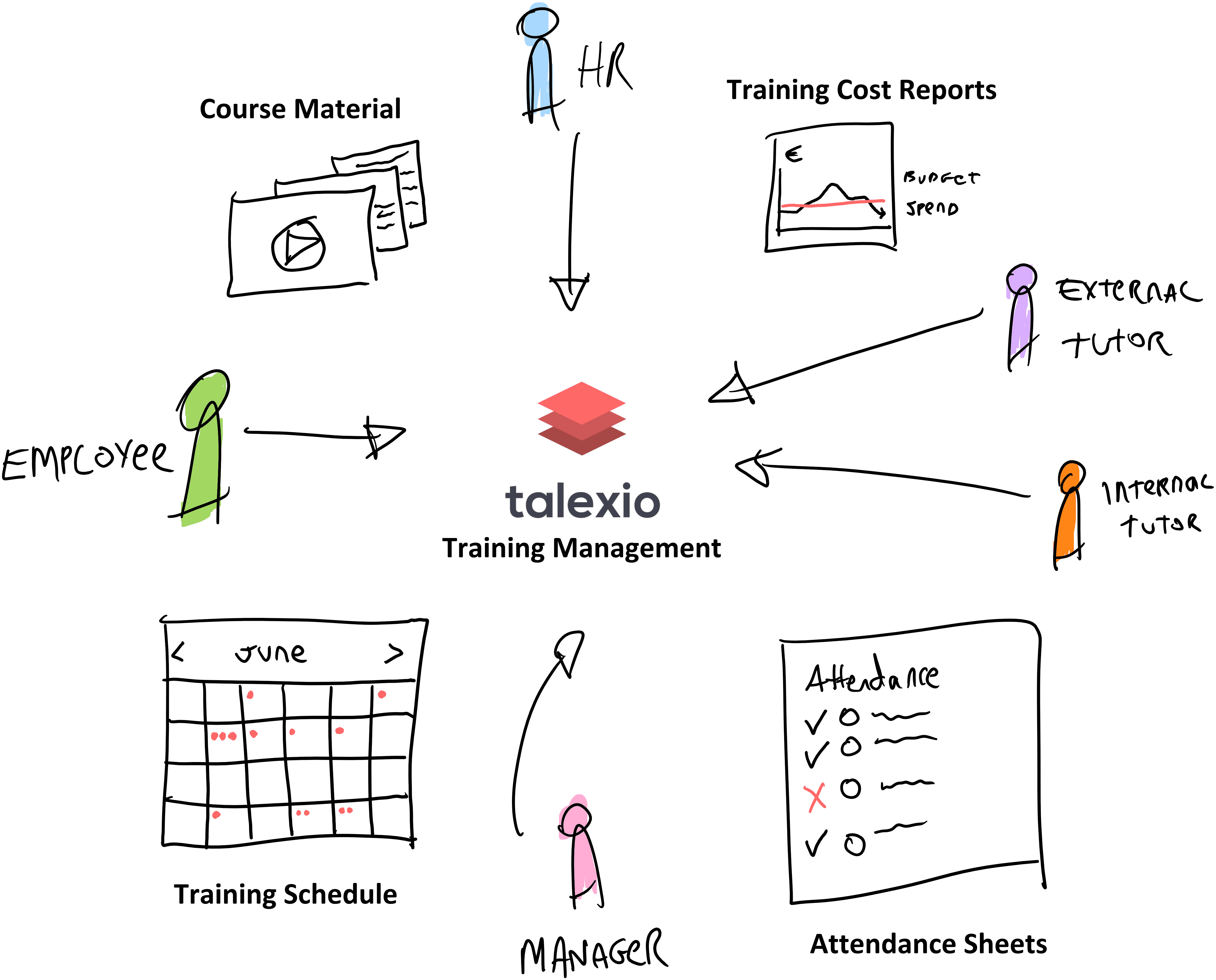 2. Save time and money!
Paying for a complete system is more cost-effective and far more efficient than using different platforms to cover various aspects of your business.
Talexio's Training Management module integrates with all our other modules, including our Time and Attendance module, so you can effortlessly plan employee shifts around any scheduled training.
Having all your data stored in one place will also simplify your work. Not to mention, it'll save your employees a great deal of time from having to complete tedious administrative tasks—time which they can use to expand their knowledge.
As if that's not enough, with a training management system like Talexio, you can continue saving time with automation.
Communications:

Easily automate training invitations and reminders which will automatically integrate with your Talexio calendar to help your trainers and trainees keep up with their courses.

Reporting:

Generate training cost reports by cost centre or department to evaluate and optimise your spending. With these reports, you can figure out what's working and what needs updating so you can modify accordingly.
3. Help your employees grow
Training management software assists you in giving your people the tools they need precisely when they need them. 
With Talexio, you can easily maintain a highly skilled workforce by generating competency and skill gap analysis reports to know where they need a helping hand. 
You can even pre-set skills and competencies needed for specific job roles, which will make it easier for you to plan ahead when it comes to new hires.