This ProBio model is a multi-function biometric time & attendance device. It has been carefully selected for its elegance, sturdiness, accuracy and user-friendliness, which seamlessly integrates with our TalexioHR T&A module.
It can also be set to have multiple verification modes to improve the level of security. Silk ID not only has outstandingly high identification rate towards dry, wet, and rough fingers, but also provides the utmost security with alive finger detection. It can operate under strong light, and activates automatically when a finger approaches to save power.
Using the latest version high-speed face recognition algorithm, it has extremely low error rate, in addition to being able to effectively prevent duplicate registration.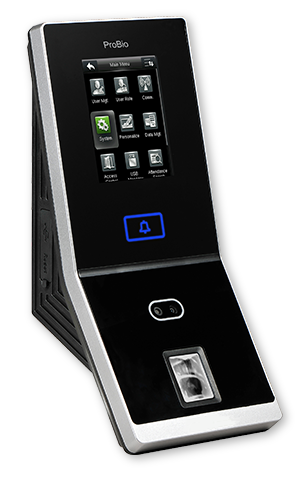 Specifications
CPU 

1.2GHz High Speed CPU 

Memory

128MB RAM / 256MB Flash SilkID Fingerprint Sensor

Capacity

Fingerprints: 4,000   |  Faces: 2,000 (1:N) / 4,000 (1:1)   |   Cards: 10,000 

Records

100,000 transactions

Identification modes

Fingerprint, Card, Facial Recognition and multiple combinations

Screen

2.8 Inches TFT-LCD Touch Screen / 125KHz EM Reader

Standard Features

Access Levels / Groups / Holidays | DST / Bell Schedule | Duress Mode Anti-Passback | Record Query | Custom Wallpaper & Screen Saver

Camera

Dual IR Camera for facial recognition

Communication

TCP/IP, RS485 (For Slave Reader) / USB Host / Wiegand Input / Output Security Relay Box

Integrated Controller

Door sensor, Alarm Output and Lock Relay

(TalexioHR only supports the T&A functionality)

Special Functions

Multiple Biometric Verification Modes | Alive Finger Detection | Event Snapshot

User Photo

Power Supply

DC 12 V 3A  |  Draw < 500mA

Temperature Operation

-10° C  ~  +50° C

Dimensions

190.8 mm (H) x 85 mm (W) x 103 mm (D)