In 1935, a test of a Boeing aircraft failed due to a pilot error. The aircraft proved to be more complicated than those previously used. As a result, a group of test pilots created a short and simple checklist of questions that the pilot had to answer step by step during take-off, flight, landing and taxiing. Since then, checklists have been used in many fields, becoming assistants for various specialists and mandatory for professions dealing with tasks where the price of making a mistake is too high. No matter how responsible a person is, in a hurry, due to fatigue or excitement, it can happen that an employee forgets something or needs clarification. That is why we would like to remind you about the Talexio HR software checklist feature. But first, read an interesting story about how checklists can actually save lives.
Checklists Saving Lives
American surgeon, journalist and writer Atul Gawande is the author of "The Checklist Manifesto". In 2007, Atul Gawande attended the World Health Organisation conference on the problem of post-operative complications. Doctors wanted to have fewer complications after surgery and were looking for solutions. The result was a large-scale study on checklists to ensure the safety of operations in hospitals in different countries around the world. For this purpose, they developed a checklist that included 19 medical lists.
They decided to introduce this practice in eight hospitals, four of which were among the world's leading medical centres – in Seattle (Washington), Toronto (Canada), London (UK) and Auckland (New Zealand). The other four hospitals were characterised by high workloads and a lack of staff and resources. They are located in Manila (Philippines), Amman (Jordan), New Delhi (India) and Ifakara (Tanzania).
Spectacular Results
The surgical complications rate after operations was between 6 and 21%. Complications sometimes lead to death. The research also found that even the best specialists omitted one of the six steps needed to make surgery safer 6% of the time (i.e. when operating on 1 in 16 patients). Checklists started to be used in all eight hospitals. The final results were encouraging:
The incidence of severe post-operative complications decreased by 36% and mortality by 47% after the introduction of the checklist;

The number of infections was almost halved, and the number of reoperations caused by bleeding or technical errors was reduced by a quarter.
After the study's results were published, many medical institutions introduced checklists. Among medical professionals, the innovation initially provoked scepticism and resistance. Nevertheless, 80% of the hospital staff surveyed said that the introduction of checklists made the surgical process safer and made it possible to avoid surgical intervention errors. At the same time, when asked, "If you were going to be operated on, would you want the doctors to use a checklist?" 93% of the respondents answered yes.
Talexio HR Software Checklists
There are many advantages to making a simple checklist with Talexio HR and payroll software. So it is worth investing some time in creating and refining your checklist
However, the checklist does not tolerate non-compliance. NASA observed 60 crews from three different companies. It turned out that crews make an average of three mistakes when using paper checklists. The most common is when the pilot puts off an item and then forgets it. Electronic checklists, similar to Talexio's ones, reduced the likelihood of errors by 50%.
When it comes to managing HR administrative and operational tasks, Talexio's checklist feature helps make life easier for HR. Checklists can be used effectively to manage the onboarding of new employees when they join your company and also the offboarding when an employee leaves the company. By creating customised onboarding and offboarding templates, Talexio allows you to automate these 2 important HR processes that directly involve the supervisor, HR and employees. Apart from onboarding and offboarding processes, as the checklists can be customised, you can also use them to manage other HR ad hoc processes such as work permits.
How to Create a Talexio HR Software Checklist
Step 1
Go to the Checklist section and click the "Create checklist" button on the screen's upper left-hand side.

---
Step 2
Enter the details for your Talexio HR software checklist, such as:
Loading a preset template. Entering the heading/name of the checklist.
Adding a date from which the checklist should start.
Adding a due date (i.e. the date by which the assigned tasks must be completed).
Owner: the person who is responsible for the checklist. This can be you or another staff member to whom you assign the checklist.
Subject: the person who completes the checklist may need to complete a checklist for another staff member. This is then the subject (e.g. You need to take staff member A on board. In this case, staff member A is the subject)
Tasks: Here, you can add the things you want the subject to do.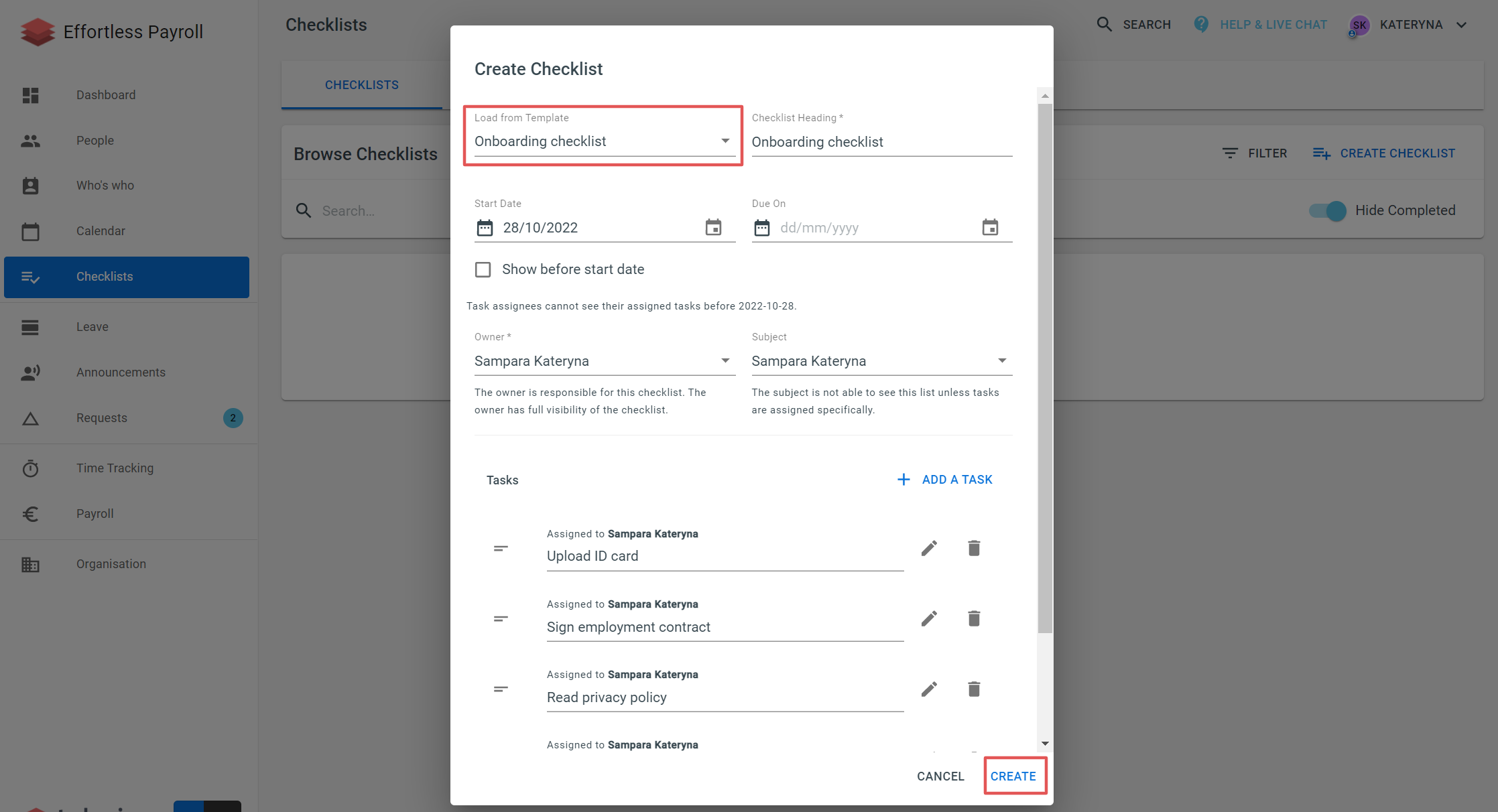 ---
Step 3
You can enter the title of the task, e.g. Upload ID Card. And if you click on the Edit button, more options will appear, such as:
insert an optional description of the task.
insert links to a website the assignee should visit (e.g. a link to a survey that needs to be completed).
select Upload required: this means that the recipient must upload a document before they can complete the checklist. Once the recipient receives the checklist, they will see a paperclip icon indicating that they must upload something.
After uploading, the icon changes to indicate that an upload has taken place. You can then:
select the data category for the desired upload: For example, if the recipient needs to upload a copy of the ID card, you can select the Employment category.
save in the recipient's employee documents: This will save the upload in your Documents section
attach elements: Here, the creator of the checklist can upload all documents that the recipient can access in the checklist.
Once you have added all the requirements to your checklist, click on the Save button.
Voilà! You have successfully created your first checklist.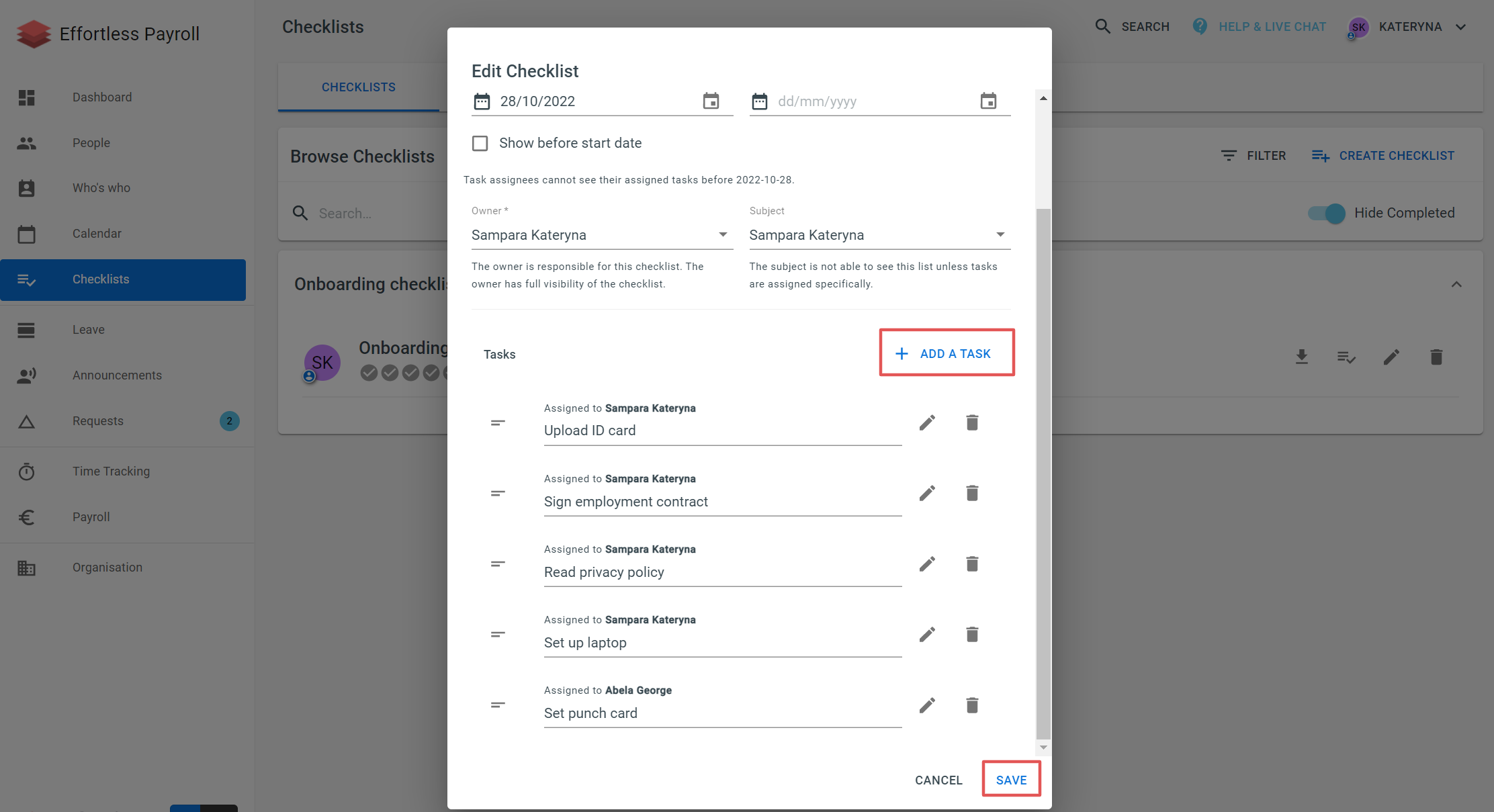 ---
Step 4
You can edit your checklist by marking each step as completed. Please note that your checklists can also be revised later. Once your HR checklist is created and assigned to a person, that person will get an email with the checklist and the due date 
If a due date has been set, the recipient of the checklist will receive an email notification informing them if certain tasks have not been completed one day before the due date.
---
If you do not find a suitable template, you can create a customisable one. If you want to know more about customisable options, read our article.

Our Final Thoughts on Talexio HR Software Checklists
All in all, a checklist can become an excellent tool in your personal and professional life to help you complete routine tasks more easily and reduce the likelihood of making mistakes. Try creating a checklist with Talexio to cover all your HR needs, and you will see how much your efficiency improves.
Talexio HR Software Checklist FAQ
What is an HR software checklist?
It is an electronic checklist that you can use within Talexio HR software to speed up HR and payroll procedures.
What are the benefits of the Talexio HR software checklist?
With the help of customised onboarding and offboarding templates, you can automate important HR processes that directly involve the supervisor, HR and employees.
How to create my first Talexio HR software checklist?
Contact our support department, and we will provide you with the best payroll and HR solutions to suit your business needs.